12 September 2023
End of summer's sigh, RESPONSUM takes flight,
A vibrant upgrade, ushering in new light. 🌊✨
We're excited to introduce RESPONSUM v1.22.0, packed with new features, enhancements, and improvements to streamline your experience. This release brings a range of updates to React ROPA, Assessment Builder, entity management, filters, and more. Read on to discover the highlights of this version! 🚀
New features and enhancements
Revamp of our authentication system
Due to RESPONSUM constantly evolving, we have updated our authentication system to make it future prove and allow more custom SSO integrations (Like Okta) and property setting for specific customers.
Here's a brief overview of the process:
Logging in:

When you log in to RESPONSUM, you will notice a slightly different login flow as before. You first will need to provide your email address.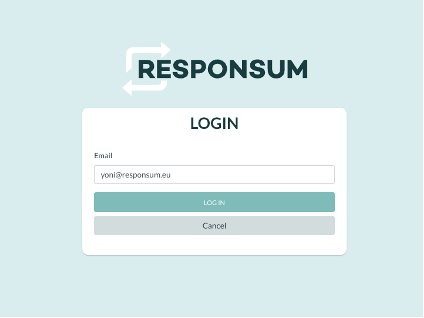 Depending on whether you have access to one RESPONSUM environment or multiple, you will get the option to select an environment to start the login process for:
Now you will be prompted to provide your login credentials you always used up till this point. Your email will already be prefilled based on the previous steps:
Once logged in to any RESPONSUM environment, a prompt on the screen regarding the transfer of your account will appear as shown below:
Options: You will have two options:

Ignore the Prompt: If you choose to ignore the prompt by pressing the "X" in the top right, you can continue to log in with your existing credentials. However, please note that there will be a cutoff date after which users will be required to transition to the new system (approximately three months after the initial release). Follow-up communications will provide more details on the exact date.

Accept the Prompt: If you accept the prompt by pressing "Upgrade now". Depending on the amount of RESPONSUM environments you have under your RESPONSUM account, you will receive one or more emails containing temporary login credentials. Using the link provided in a specific email, you can set a new password for your account within the environment you got the email for.

Please note, for users with multiple RESPONSUM environments, from now on an individual PW will be required for each of these environments. If you only have access to one environment, nothing changes for you.
For "SSO Only" user accounts, each environment will be migrated individually, so for each tenant you will see the pop-up shown earlier to upgrade to the new version.
Additional steps: If you had 2FA or other security measures enabled on your previous account, you will need to configure them again for each RESPONSUM environment.
Completion: After completing these steps, you will be able to log in to RESPONSUM using the new authentication system.
We understand that this transition may raise questions and concerns, however, we are fully prepared to assist you throughout the process. If you have any questions or require assistance during this transition, please do not hesitate to reach out to our support team at support@responsum.eu.
Entity as a Third Level
In our quest to offer ever-increasing flexibility in organizational structuring, we're excited to introduce a brand-new level of categorization—Entities. Alongside the existing classifications of Offices and Departments, Entities offer an additional layer of hierarchy, allowing you to tailor your information categorization to your specific needs. Worried about permissions? Fear not; the same robust permission settings that you're accustomed to for Offices and Departments are seamlessly extended to Entities.
Removal of Download All Buttons in favor of Bulk Actions
Recognizing the value of simplicity and efficiency, we've ushered in a change to streamline your interactions with our platform. The Download All buttons have gracefully made way for a more streamlined mechanism—Bulk Actions. By replacing individual download commands with a comprehensive bulk approach, we're committed to refining your workflow and providing a more organized and coherent method of managing your data.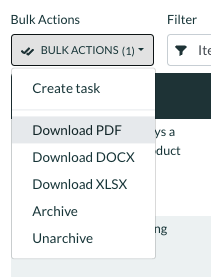 Additional Tags & Category Filters for Register
Our commitment to enhancing the functionality of the Register module remains steadfast. We're thrilled to unveil an expansion of the filtering capabilities in this release. This expansion takes the form of additional Tags and Category filters, which further empower you to precisely hone in on the information that matters most to you. Whether you're seeking to navigate intricate datasets or swiftly access specific details, these supplementary filters offer an unparalleled level of precision, ensuring your insights remain both comprehensive and immediate.
Extension of Sub-modules for Duplicating Items
Efficiency is the cornerstone of any successful platform, and we've taken this principle to heart by extending the functionality of duplicating items across various sub-modules. This enhancement grants you the freedom to replicate items with unparalleled versatility. Whether you're fine-tuning intricate details or creating variations for comparison, this extended duplicating feature guarantees a streamlined and productive workflow, freeing you to focus on what truly matters.
Internal and External Joint-Controllers
The concept of joint-controllers has evolved to offer you even more nuanced control. In this release, we're delighted to introduce the ability to designate joint-controllers as either internal or external to your organization. This enhancement presents you with unparalleled flexibility in managing joint-control relationships, allowing you to tailor your approach to suit the unique dynamics of each situation.
List View for Offices
Visual consistency is paramount in creating an intuitive and seamless user experience. With this in mind, we're excited to unveil the new list view for Offices, harmonizing their display style with that of Departments. This harmonization brings a unified visual language to your interactions, fostering a sense of coherence and familiarity. As you navigate through the platform, you'll find that this enhancement significantly contributes to an environment where navigation is not only efficient but also visually engaging.
Additional Risk Metrics in Risk Dashboards
In the realm of risk management, comprehensive insights are indispensable. In this release, we've taken a significant stride towards providing you with an even more holistic perspective. The Risk dashboards have been enriched with additional risk metrics, presenting you with a panoramic view of your risk landscape.
Linked Risks in Control Sub-modules
Understanding the interconnectedness of risks is pivotal in effective risk management. With this principle in mind, we've enhanced the visibility of linked risks from other sub-modules. These linked risks are now seamlessly accessible within the dedicated linked risks tab of controls, offering you a comprehensive understanding of how different aspects of your operations intersect.
Settable Name Field for Maturity Assessments
Personalization is a cornerstone of adaptability, and we've taken this principle to heart by introducing a customizable name field for maturity assessments. Your organization is unique, and your assessment naming conventions should reflect that individuality. With this enhancement, you're free to tailor the names of maturity assessments to align precisely with your organization's distinctive requirements. This seemingly small addition is a testament to our commitment to empowering you with tools that resonate with your operational context.
DOCX Exports for All ODT Exports
Flexibility in exporting your data is paramount in facilitating effective communication. In this release, we've elevated the export capabilities by offering all ODT exports in the universally recognized DOCX format. This expansion in export options not only enhances compatibility but also equips you with a versatile array of formats for sharing and presenting your data. Your insights are valuable, and we're dedicated to providing you with the means to convey them in the most impactful way possible.